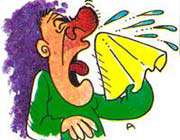 One thing that I-and I'm sure most you of as well-experience in the winter months, is a runny nose or sinusitis! I recall that last winter was one of the worst experiences in my existance for having severe sinusitis. After a few visits to the doctor, and with no help from prescriptions, I decided to seek an alternative method to cure my runny nose once and for all.
Before I talk about this natural sinusitis remedy, lets talk a little more about what causes a runny nose or sinusitis. Sinusitis is caused by a microbe which is found frequently in the mucus which is excreted from your sinuses. While killing microbes in your bloodstream is somewhat simple, it is not the case for the microbes located in the mucus from your sinuses. While a pharmacy or doctor will prescribe you a nasal spray as a sinusitis remedy, I suggest you avoid this medication as it will not only stop your nose from running, but will dry it up to the point where you will be unable to breathe in and out of your nose. I found this extremely uncomfortable, and found that after a day or two, my sinusitis would return to its free flowing state anyhow.
The first rule of thumb when it comes to treating sinusitis, is to completely avoid all milk products (milk, ice cream, cheese, and eggs). Although, if you're pregnant, you should consume at least two eggs per day or as recommended. Also, avoid refined flour and soda. Try and eat as much whole food as possible such as bananas, whole grains, vegetables, etc.
Okay, now that we have our diets under control (for this treatment), let's have a look at how to treat sinusitis with some natural sinusitis remedies. Trust me, it works!
Make a visit to your nearest Natural Health Food store, or a similar department in your grocery store, and find the purest Apple Cider Vinegar available. Take one table spoon of Apple Cider Vinegar in a glass of fresh water 3-4 times per day. If you're heavyset (150-300 lbs. or more) increase that amount to 2 table spoons per day with a glass of water four times a day. This natural sinusitis remedy is extremely effective.
Within a week, your sinus drainage should slow to a trickle, and eventually cure your sinusitis altogether. Depending on the severity of your sinusitis, continue taking APC with water until your sinusitis subsides.
Avoid all nasal sprays and decongestants available at your local pharmacy such as Nyquil and Afrin as they only do more harm than good. If you're severely congested, the key is to keep your nasal passages moisturized to allow for drainage. Nasal sprays will only do more harm than good, and usually lead to a trip to the doctor to fix the damage they have done! This natural sinusitis remedy will not only help relieve a runny nose, but will help prevent severe sinusitis from occuring in the future.